Televisual Teenager Phenomena. Adolescent Prototypes in TV Series in Spain
Keywords:
Television, serials, fiction, teenagers, identity, character
Abstract
This work is doubly justified: as a part of a bigger research project on types of so far marginalized characters in television drama serials; and as a contribution to the teenage invasion of the TV screen as a call to this kind of audience. The aim of this paper is to show prototypes of adolescents created in televised products broadcast today in Spain. The methodology is based on two factors: a quantitative one about serials and characters, and a qualitative analysis of drama serials and teen characters. The result confirms the existence of a powerful standardized appearance and attitude regarding the models proposed by American series over the Spanish ones. The conclusion discusses the generation of contradictory teenage prototypes..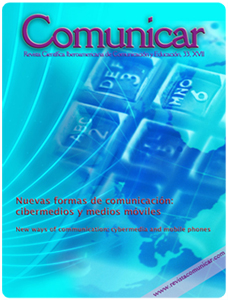 Downloads