Students' Perspective on On-line College Education in the Field of Journalism
Keywords:
Education on-line, e-learning, journalism, student, case study, virtual classrooms, university
Abstract
The advance in new technologies has changed the educational model considerably. On-line education has arrived with a bang at university and those degree courses linked to the field of communication have adopted this type of technologies. In just a few years, the number of courses available in the communication field that include on-line subjects has multiplied. It seems that this tendency of proliferation will continue due to a high demand for degrees in the communication field as well as the possibility of completing these degrees on-line. This paper shows the perspective that on-line journalism students at the Rey Juan Carlos University in Madrid have on their studies. The results of a survey of students of the different courses that include the qualification allow us to gain a perspective of their experiences at the beginning and end of the studies. The questionnaire asks about socio-demographic traits from which we draw a sociological profile of on-line journalism student. It also delves into the motivations and expectations surrounding the decision to enrol in this mode and in its assessment both in terms of learning and the relationship between peers and teachers. Some of the conclusions point to the positive attitude of students and a satisfactory evaluation by the students..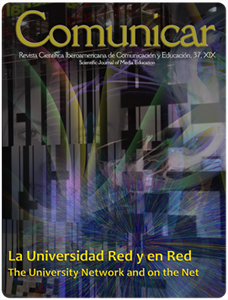 Downloads