Digital Divide in Universities: Internet Use in Ecuadorian Universities
Keywords:
Digital divide, university, Internet use, information, digital inclusion, internauts
Abstract
New technologies have transformed higher education whose application has implied changes at all levels. These changes have been assimilated by the university community in various ways. Subtle differences among university students have emerged; these differences determine that the resources the network offers have been used in different ways, thus creating gaps in the university population. This study seeks to determine the level of incidence of the variable of university students' incomes on the uses and intensity of use of the Internet tools and resources. Students were classified using factor analysis complemented through cluster analysis in order to obtain user profiles; these profiles were verified by means of discriminant analysis. Finally, chi-square was applied to determine the relationship between income level and user profiles. As a result, three profiles were identified with different levels of use and intensity of use of the Internet tools and resources, and statistically the incidence of income in the creation of those profiles was proved. To conclude, we can say that the income level falls mainly on the variables that define the access possibilities; gender has a special behavior; however, since the profile of the highest level has a double proportion for men, though women have better performance in general terms..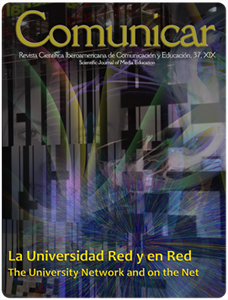 Downloads