Active Ageing and Access to Technology: An Evolving Empirical Study
Keywords:
Education, elderly, education of adults, Internet, ageing, health education, digital divide
Abstract
Researchers' interest in seeing the benefits of Internet in elderly people is now growing. The network helps this group to increase communication, avoid isolation and loneliness and to age actively. Europe decided 2012 to be the Year of Active ageing. This paper presents a descriptive study of time series analysis carried out between 2004 and 2012 with the aim of knowing how the evolution in the level, motives and needs of the use of computers and Internet by elderly people in an environment of university training focused on health and life quality is. To obtain results a question paper is to be handed out to a sample of 419 people aged between 55 and 94 and taking part in the «Inter-university Programs of Experiences» from the University of Burgos. The obtained results match up with previous studies that pointed a noticeable increase in the use of the Internet (in frequency, number of users and resources) caused by elderly people's desire to keep active, up-to-date and communicated, as well as their need to continue their learning process through tools linked to the network. Here some suggestions focused on the improvement elderly people's formation and future research on the perception of the Internet as a tool for social participation..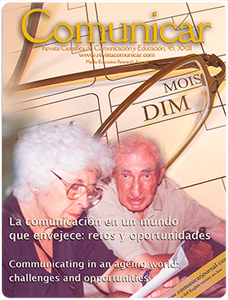 Downloads