Young adults' interaction with online news and advertising
Keywords:
Audiences, news consumption, focus groups, young adult people, mobile media, qualitative methodology, privacy, online advertising
Abstract
This research aims to portray the way young adult people interact with news and how their consumption is affected by advertising and personal data sharing. 'Digital News Report Spain 2018', a questionnaire on the consumption of digital media undertaken by a national panel of 2,023 Internet users, is used as a main source. Among the users mentioned, there were 293 young people from 25 to 34 years old who belong to the Millennial generation. Data from this report was completed with a qualitative study in which two focus groups were held, featuring people of that age frame residing in Navarre. The paper concludes that young adult people are generally interested in news, which they access mainly via mobile devices. Their interest grows when the content affects them directly, but also if they empathize with the topic. On the other hand, their familiar background and social routines shape the way they receive information. Young adult people still make use of traditional media, although they consider it ideologically biased. Advertising is something annoying, although they generally have little knowledge and even less intention to use ad-blockers. Finally, their review of the personalized services is negative, but they tend to give away personal data to media if this facilitates their news access..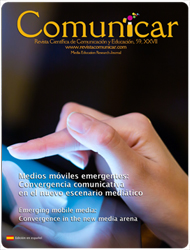 Downloads