Mobile journalism: Systematic literature review
Keywords:
Mobile communication, mobile journalism, digitalization, convergence, mobility, innovation, personalization, ubiquity
Abstract
The era of mobile media has placed communications convergence at a new stage. The importance of studies about mobile communications has been growing increasingly over the last years. This growth is connected to the increase in the access to contents through new devices. The last ten years have seen a process of acceleration in mobile technology innovations. The peak of this new scenario has been the interest of the research community in investigating the relationship between such innovations and the spread of informative contents. This article analyses those studies that address the relation between mobile devices and communication and journalism. The main objective is to clarify the current state of these studies as well as to define their significance within the current convergence scenario. In order to reach such objectives, a Systematic Literature Review (SLR) was conducted. The authors analysed 199 research articles published between January 2008 and May 2018 in the database Web of Science. The findings suggest that the United States has the largest number of studies in relation to this topic. We can pinpoint the highest increase in scientific production about journalism and mobile communications in 2013. Besides, it exists a dominance of those articles related with actants upon those ones about actors or audiences..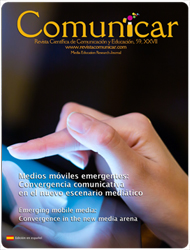 Downloads